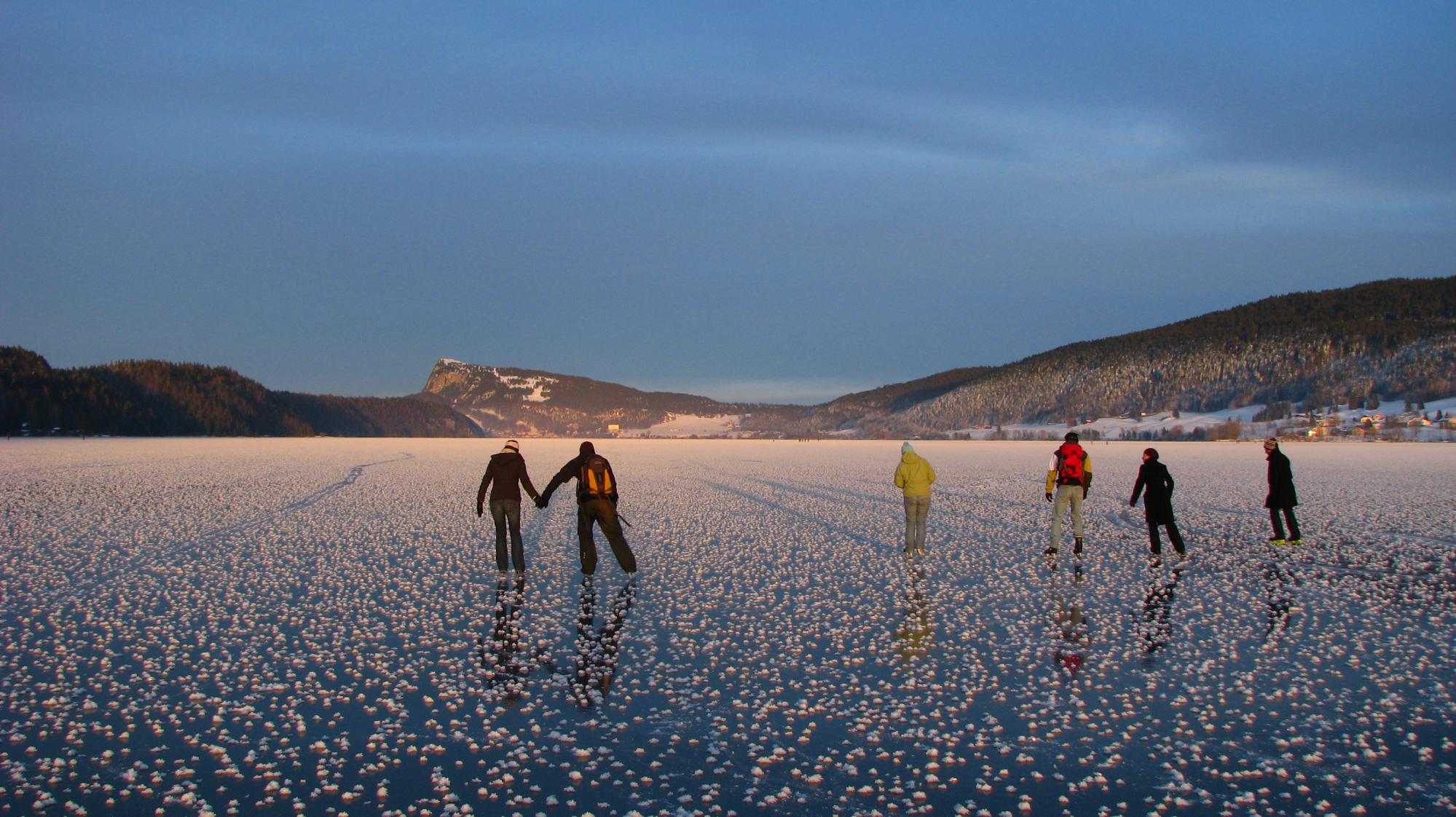 Frozen lakes
Skating on a frozen lake: a must-do experience, rare and ephemeral.
Idyllic settings and unusual experiences, skating and walking on the Lac de Joux is an unforgettable moment to experience once in a lifetime!
In the coldest part of winter, the 9.5km2 of Lac de Joux can be transformed into a huge frozen surface. The shores of the lake come alive with various stalls run by local companies, while skaters, walkers and families take to the ice. Its small neighbour, Lake Ter, also allows families to skate and slide on a much smaller surface. Access is via the village of Le Séchey.
Safety instructions
Even if the lake is open, it is not without danger to tread on it, since conditions can change at a moment's notice. It is therefore necessary to respect the signs posted:
Red flag = DANGER, access to the lake is completely forbidden
Green flag = the area is open within the space delimited by pickets
Caution is still required, as well as common sense.
Good behaviour
Instructions from lake guards must be respected
There is no throwing of stones on the ice
Do not leave any trash behind you
Skate rental
The Cordonnerie Mouquin offer a wide range of skates for rent in its store at Le Sentier, from Monday to Saturday. During busy weekends, rental stands are also set up on the lake.
Important information :
the quality of the lake ice may not be suitable for skating (snow-covered surface, bumpy ice)
Access/parking during peak periods
It is recommended to use public transport.
For visitors with private vehicles, please respect the traffic and parking regulations in place.
What conditions must be met for the lake to freeze?
The freezing of the lake is a natural phenomenon that depends on several weather factors. The following conditions must be met for an opening to be possible:
Series of very cold nights (-15°C/-20°C)
Smooth water (no wind)
Cold and short days (December to February)
Minimum ice thickness of 7 to 10cm
The frozen lake in the last century
More recently